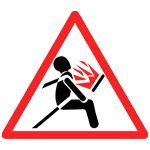 Background Information
The Takata Airbag Safety Recall is the largest recall in automotive history, involving 19 automakers and tens of millions of airbags. Defective airbags can cause serious injury or even death if not repaired immediately.
Free
The repair process is completely FREE.
Fast
The majority of vehicles are fixed in about an hour depending on the dealers' schedule.
Easy
FREE loaner vehicles or FREE vehicle pickup is available.
Is my vehicle included in the airbag recall?
If your vehicle is currently under recall, you should have received a notice in the mail from your vehicle's manufacturer. If you haven't received a notice but are concerned your vehicle may be included, use NHTSA's Recalls Lookup Tool to check. To get future notices if your vehicle is recalled, sign up for e-mail alerts at NHTSA.gov/alerts. To see the full list of affected vehicles and their assigned Priority Group for having repair parts available, check the list in Annex A.
NHTSA also recommends that you use the VIN Look-up Tool at least twice a year to see if your vehicle is under any safety recall. Please note that vehicles that have not yet been recalled, but are scheduled to be recalled in the future under NHTSA's Consent Order with Takata, will not be searchable until they are actually recalled – this is an example of why it is so important to check for recalls twice each year.
What should I do if my vehicle is under recall?
Every recall is serious because it means there is a safety problem with your vehicle, so contact your dealer as soon as possible to get the recall repair FOR FREE.
If a dealer refuses to repair your vehicle as described in the recall letter, you should notify the manufacturer immediately. You can also file a complaint with NHTSA. Provide as many details as possible, including the name of the dealership and any personnel involved.
Schedule an appointment today
Call 01814655635 or 01971655635 to speak with an agent.

To understand if your vehicle is currently involved in these recalls, please use the convenient Safety Recall Lookup Tool above. Follow the instructions for your vehicle as listed. Please be noted that this Safety Recall Lookup Tool above is only for the brand new sold vehicles by Navana Limited.
For 'GREY IMPORT' (Recondition Car) please visit Navana Toyota 3S Center. If affected, a replacement will be made free of charge.
Navana Toyota 3S Center

Address:

205-207 Tejgaon I/A, Dhaka-1208.

Phone:

+880 1814 655635; +880 1971 655635; +880 1847 104325; +880 1814 655659;